1
Posted on November 1, 2012 - by Jules Shepard
I get lots of recipe questions throughout the year, but never more than in the lead-up to Thanksgiving. One question that comes up often is, "How do I make gluten-free fried onions for my Grandma's Green Bean Casserole??!" Well no worries, because I've got a quick and easy recipe for you (and you can just munch on them as onion rings, too!). My version is crispy and light and never greasy because it's baked! Sound like a winner? It is!
The Green Bean Casserole recipe that follows is also super quick and easy, but feel free to use your favorite family recipe instead, if you like. Just sub in my Jules Gluten Free™ All Purpose Flour for any flour called for in the recipe.
Onion Rings/Fried Onions

1 medium onion, sliced thinly
1/3 cup Jules Gluten Free™ All Purpose Flour
¼ tsp. sea salt
Nonstick cooking spray (one without flour!)

Preheat oven to 475° F. Spray a baking sheet with cooking spray and set aside.
Combine the sliced onions and dry ingredients in a large bowl, tossing until totally coated with flour. Pour out onto baking sheet and separate the onion ring slices so they are not touching each other. Bake for 15-20 minutes, turning one or two times while cooking to golden brown. Remove when cooked and set aside while you are making the casserole.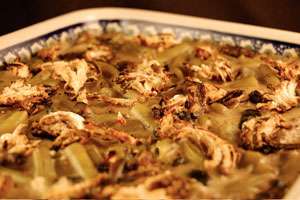 Green Bean Casserole
With a few simple substitutions, you can still enjoy your favorite Thanksgiving day casseroles, like the iconic Green Bean Casserole. Progresso® Cream of Mushroom Soup and Health Valley® Organic Cream of Mushroom Soup are two gluten-free options. For a dairy-free option, Imagine Foods® has a mushroom soup that is both gluten free and dairy free. It's also simple to make your own cream of mushroom soup, using my Jules Gluten Free™ All Purpose Flour for the roux! By the way, Funyuns® are gluten-free and can be used as a topper to replace fried onions as well, if you're really in a rush!
1 pound green beans, canned or fresh, rinsed, trimmed and halved
2 Tbs. unsalted butter or non-dairy substitute (e.g. Earth Balance® Buttery Sticks)
2 large portabella mushrooms, sliced
½ tsp. freshly ground black pepper
½ tsp. garlic powder
¼ tsp. ground nutmeg
1/3 cup dairy or non-dairy sour cream
2 cups cream of mushroom soup
1 fried onion, sliced then broken into smaller pieces (see recipe above)

Preheat oven to 400° F. If using fresh beans, boil in lightly salted water for 5 minutes, then rinse with cold water and drain. If using canned beans, rinse and set aside.
In a large saucepan, melt the butter and toss in sliced mushrooms and pepper. Stir over medium heat for 5 minutes, then add spices and flour, stirring to coat. Cook an additional minute then add the sour cream and soup and lower the heat to medium-low.
Cook while the mixture thickens, approximately 5-8 minutes more. Remove from heat and stir in half of the fried onions and all of the drained beans. Pour mixture into a large casserole and cook for 10 minutes, or until bubbly. Sprinkle the remaining onions on top and bake for an additional 5 minutes. Serve warm.
Pin It
Leave a Comment
Here's your chance to speak.
New to Jules Gluten Free?
Say Hi to 50% OFF:

5-lb bag of Jules flour
1-lb bag of Jules' Oats
1.3-lb bag of Jules' Cookie Mix
.8-lb bag of Jules' Cornbread Mix
Nearly Normal Cooking e-book
Cookie Mix e-book
Bread Baking e-book
FREE shipping!